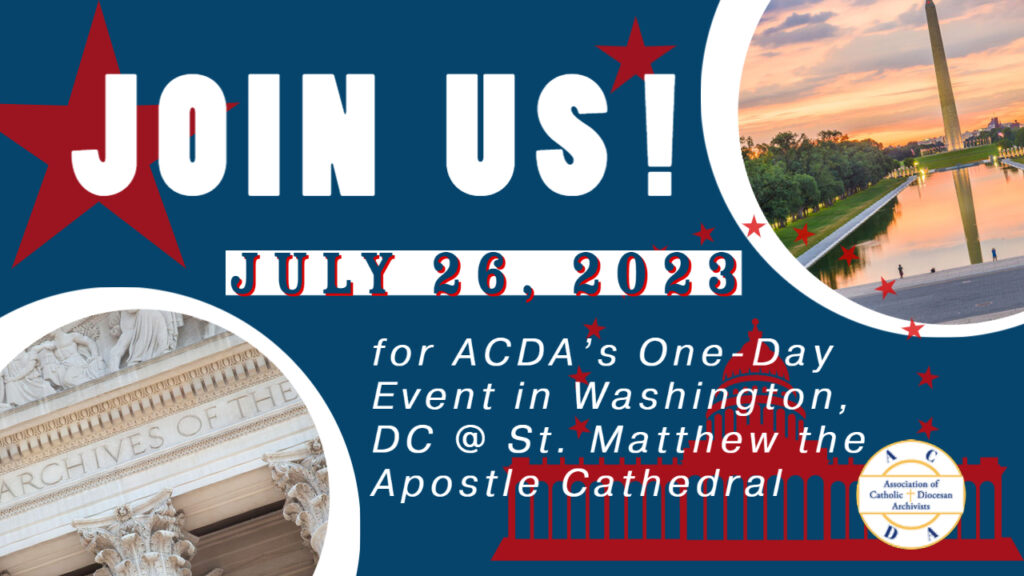 On Wednesday, July 26, 2023, the ACDA Program Committee will host our traditional one-day event in conjunction with the Society of American Archivists (SAA) conference in Washington, DC.
Our meeting location will be at the majestic St. Matthew the Apostle Cathedral, down the street from where the SAA & CoSA are holding their 2023 Joint Annual Meeting (Washington Hilton Hotel).
The educational part of our program will focus on Public Access Tools. As we know, Catholic (arch)diocesan archives hold unique and valuable collections that highlight Catholic life across the country, but too often researchers are not aware that these collections even exist. By sharing the tools and policies they use in their archives, Amy Lisinski, Archdiocese of Milwaukee, and Melissa Mabry, Diocese of Charleston, will facilitate a discussion on how (arch)diocesan archives can become more visible to the broader research community and encourage the use of open collections with the use of online finding aids.
For logistical purposes, we are asking all who plan to attend this free members' event to register using our online JotForm before July 1, 2023.
ATTENDEE RESOURCES:
ACDA Registration Form
ACDA Event Schedule
ACDA's DC Locations & Transit Guide
SAA's Host Community page
SAA Conference information page